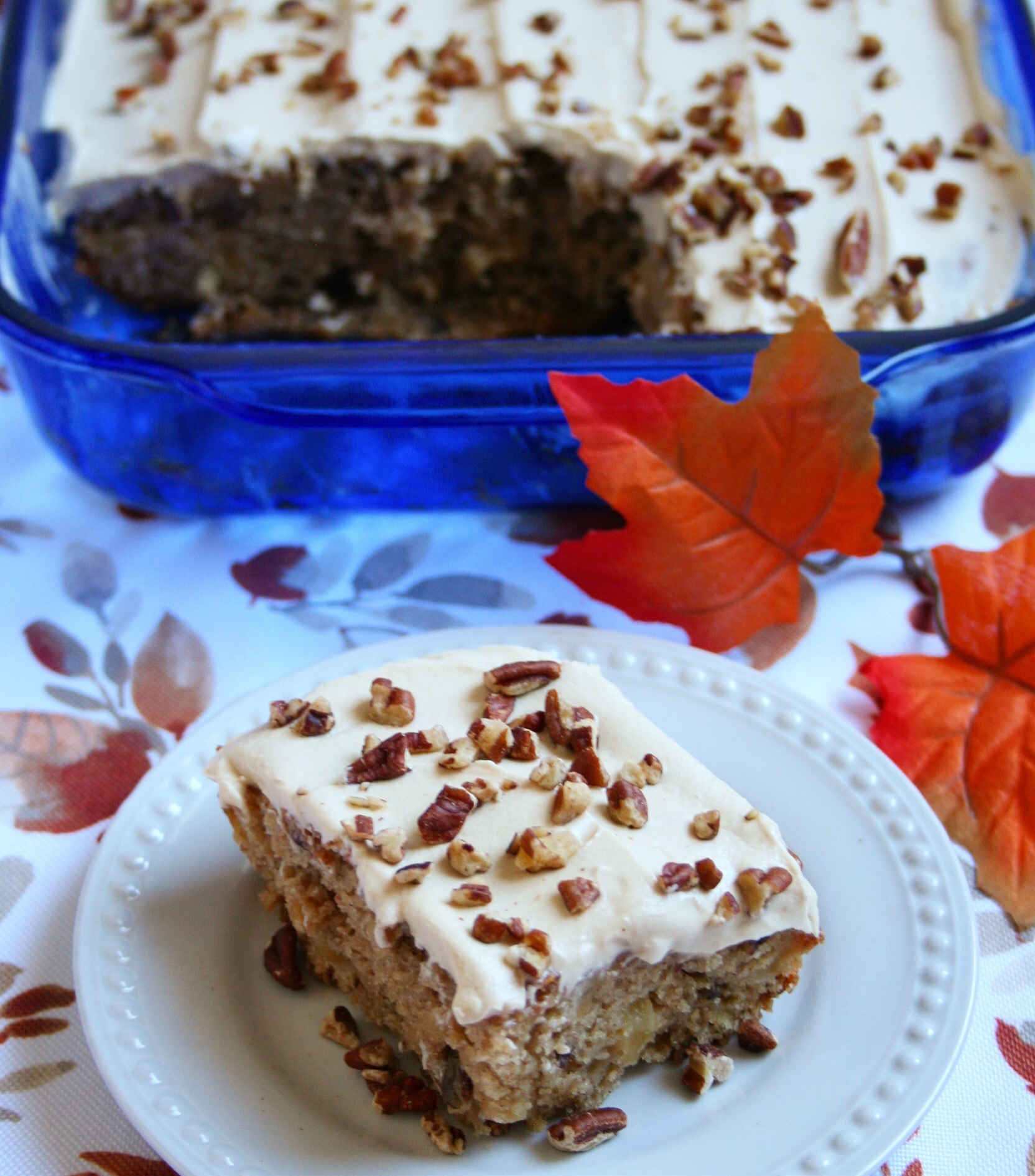 I'm a Halloween fan so every year I have the tradition of organizing a Halloween party at my house. It's never the same day of Halloween, I usually plan it for a couple of days before so I can make sure all of my friends can come. I always invite a group of 10 ladies so we all dress up, eat and drink spooky things lol, well not spooky but we try to prepare food and drinks that goes along with the theme. This recipe is perfect if you are invited to a Halloween get-together. You can even make the cake the night before, store it in the fridge and next day the cake will be as moist as the same day you made it. Then, you just cut it in squares so it's easier to serve and share.
This cake is packed with chopped apples (I used Jonagold) and pecans. About the frosting, this is a brown sugar cream cheese frosting, which is smooth and delicate perfect for this kind of cake.
Let's start with the recipe.
Ingredients
For the cake
4 cups peeled chopped apples (small pieces). I used Jonagold apples but you can use the apples of your preference.
2 cups white granulated sugar.
1/2 cup vegetable oil
2 large eggs, room temperature
1 teaspoon vanilla extract
2 cups all purpose flour
2 teaspoons baking powder
1/2 teaspoon baking soda
2 1/2 teaspoons cinnamon
1/2 teaspoon nutmeg
1 teaspoon salt
1/2 cup milk
3/4 cups  cup chopped pecans
For the cream cheese frosting
1 (8 oz.) package cream cheese frosting. Take it out from the fridge just 15 minutes before you start making the frosting.
1/4 cup unsalted butter, room temperature
2 teaspoons vanilla extract
1 cup light/golden brown sugar
Note:
For the cake I didn't have enough white granulated sugar so I added some turbinado cane sugar  and the result was great.
Directions
For the cake
1.- Preheat oven to 350 F. Grease and flour a 9×13 inch baking pan. Set aside.
2.- In a bowl of a stand up mixer or just a large bowl, combine apples and sugar. Add oil, eggs and vanilla. Mix all together.
3.- In another bowl, combine flour, baking powder, baking soda, cinnamon, nutmeg and salt.  Set aside.
4.- Add the dry ingredients into the wet ingredients and mix until just combined. Add pecans.
5.- Pour the batter into the prepared pan. Bake for 40 minutes aprox. or until a toothpick comes out just with crumbs. Let cool completely before making the frosting.
For the frosting
1.- In a bowl of an electric mixer, beat the cream cheese for about 2 minutes until smooth. Add butter and beat for another 2 minutes, always scraping down the sides of the bowl. Add vanilla and brown sugar. Beat for 5 minutes until is light and flufly. Also, make sure the sugar has dissolved.
2.-Spread evenly on top of the cake. Sprinkle some more pecans on the top.
3.- Cover the cake with plastic wrap and put it in the fridge until it's ready to cut and serve! Enjoy!