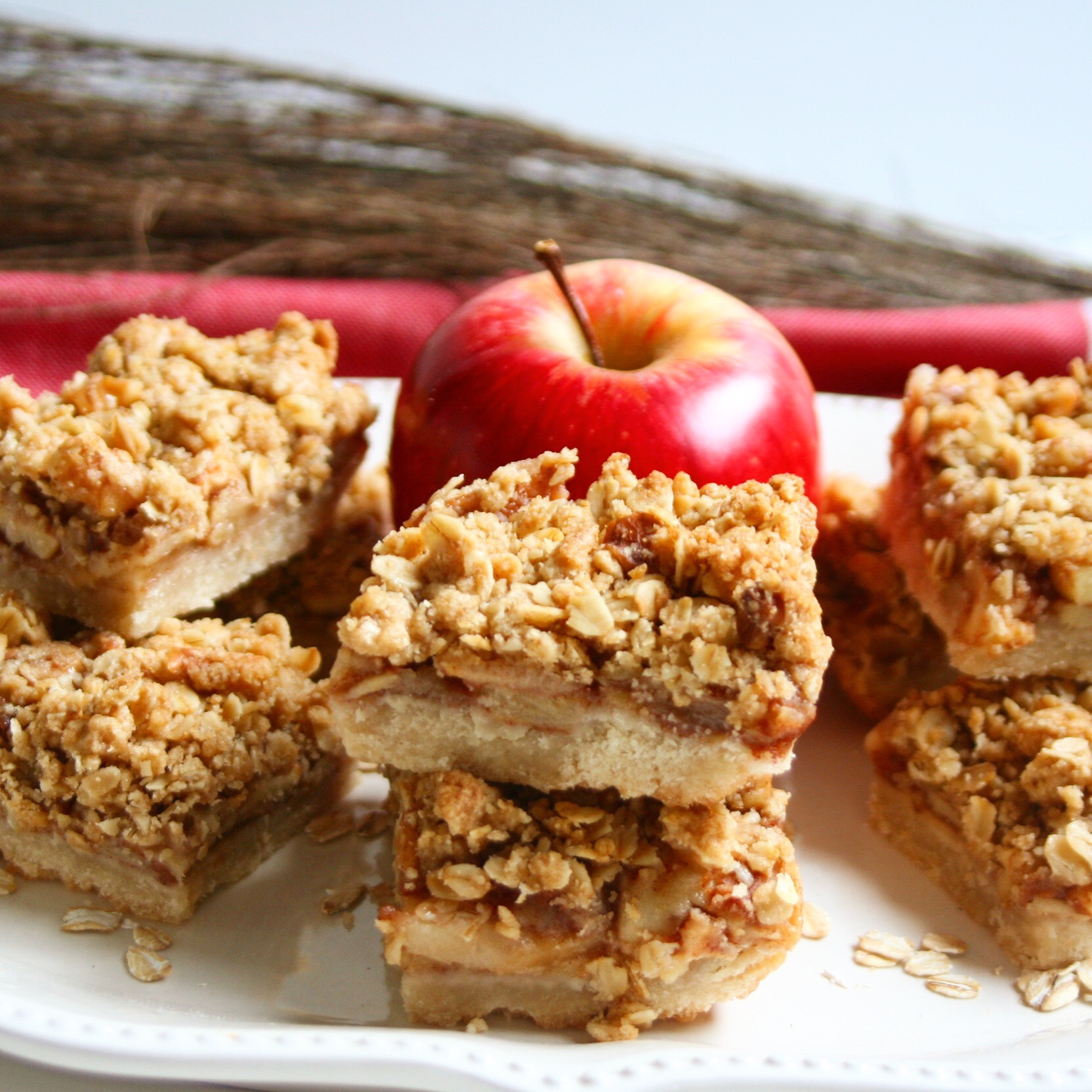 Happy Sunday! It's very windy this morning here in the valley. We're suppose to go boating this afternoon, hopefully it doesn't get that chilly. Weather here has been awful, sometimes it's hot, then gets supper chilly and now it's crazy windy! I can't wait for cold and rainy weather, I'm so done with warm days.
A few days ago, I was in the mood for apple pie but I just didn't want to deal with making a perfect lattice pie crust (don't judge me! lol ). Also, I wanted to bake something easier to share. My husband takes a lot of what I bake to his work, so I thought pie might be a little messy. These apple bars are super easy to make, easy to share and delicious! You can make this recipe for Thanksgiving or any other potluck you might have during Fall or Winter! I had Jonagold apples, so I used them for this recipe.
If you would like to make a larger batch (I just made an 8-inch pan), you should just double the recipe.
Ready for the recipe? Here we go….

Ingredients
For the Crust
1/2 cup unsalted butter, melted
1/4 cup white granulated sugar
1 teaspoon vanilla extract
1/4 teaspoon salt
1 cup all purpose flour
For the Filling
3 apples, peeled and thinly sliced
2 1/2 tablespoons all purpose flour
2 1/2 tablespoon white granulated sugar (It's important to taste the apples before mixing them with the sugar so you know how much sugar to addd)
1 1/2 teaspoon cinnamon
1/2 teaspoon nutmeg
For the Topping
2/3 cup old fashioned oats
1/3 cup light brown sugar
1/4 teaspoon cinnamon
1/4 cup all purpose flour
1/3 cup chopped walnuts
1/4 cup unsalted butter, very cold and cut into little chunks
Directions
For the crust
1.- Preheat oven to 325 F. Line the bottom and sides of an 8 inch square pan with parchment paper, leaving enough  overhang on all sides.
2.- In a bowl, mix melted butter, granulated sugar, vanilla and salt together. Add flour and stir until everything is combined. Press the mixture evenly into the prepared pan. Bake for 20 minutes. Take the pan out of the oven and set aside. Turn the oven heat to 350 F.
For the apple filling
Combine apples, flour, granulated sugar, cinnamon and nutmeg. Mix well. Set aside.
For the topping
Mix oats, brown sugar, cinnamon, flour, walnuts. With a pastry blender or a fork, cut the butter into the oats mixture until it resembles coarse crumbs. Set aside.
To assemble
1.- Layer the apples on top of the crust. Press them down a little bit so they can fit better. Sprinkle topping over the apples.
2.- Bake for 35-40 minutes or until the topping is golden brown.
3.- Remove from the oven and let it cool room temperature, for about 45 minutes.
To have a nice cut of the squares, chill in in the fridge for about 2 hours. I got 16 bars.
Enjoy!