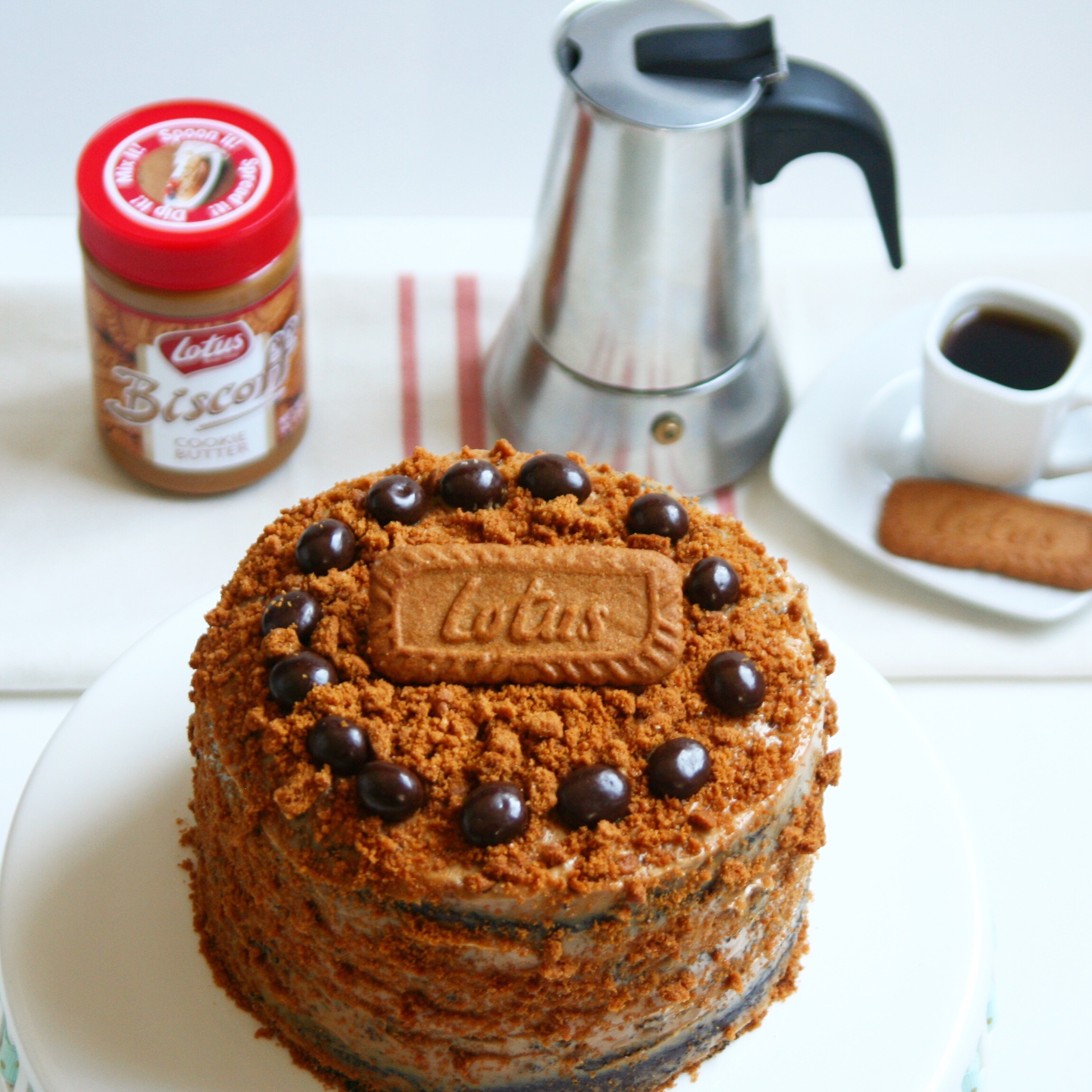 The first time I tried Biscoff cookies was on a Delta flight about 8 years ago. I found them really interesting, something that I had never tasted before, crunchy texture with a caramelized flavor. Later on, I found out that the proper name for those cookies were Lotus Biscoff (the American version is Speculoos).  It's derived from the combination of words Biscuit and Coffee, simply because their caramel flavor and crisp texture make these cookies the perfect accompaniment to a cup of coffee or espresso drink.
When you visit Pier 39 (San Francisco) you can find  "The Biscoff Corner in Pier 39" , so every time I visit, I grab a cup of coffee and cookies! Biscoff cookies and spread aren't hard to find, you can find them in many grocery stores and I'm sure you can get them online too.
This recipe is about a chocolate espresso cake, soaked with an espresso syrup and filled with a light biscoff buttercream. Oh, I sprinkled some cookies too.
Let's make this cake!
Yield (2)  6 inch pans
Ingredients
For the Cake
1 cup all-purpose flour
1 teaspoon baking soda
1/4 teaspoon salt
1/2 teaspoon baking powder
1 cup white granulated sugar
6 tablespoons unsweetened cocoa powder
1/4 cup vegetable oil
1 egg, rom temperature
1/2 cup buttermilk, room temperature
1/2 strong brewed espresso, hot
For the Espresso syrup
1/2 strong brewed espresso, hot
2 tablespoons sugar
2 tablespoons Kahlua (optional)
For the Buttercream
8 tablespoons unsalted butter, at room temperature
1/2 cup plus 3 tablespoons Biscoff cookie spread
1/3 cup powdered sugar, sifted
1 tablespoon heavy whipping  cream
For decorating
Biscoff cookie crumbs
Chocolate covered espresso beans
Directions
For the cake
1.- Preheat oven to 350. Grease two 6 inch round cake pans. Line the bottom of the pans with parchment paper.
2.- In a mixing bowl sift together flour, sugar, cocoa, baking powder, baking soda and salt. Add oil, eggs and buttermilk. With the paddle attachment mix for a couple of minutes and then add the hot coffee and beat for about 3 minutes until smooth. Batter will be thin. Pour into prepared pans.
3.- Let the cakes cool completely on wire racks. Then, cut each cake in 2 . Make sure your layers are even. You will have 4 layers.
For the espresso syrup
Mix hot coffee and sugar until dissolved. Mix in Kahlua. Let it cool. Brush some of the espresso syrup on the top of each layer.
For the frosting
1.- In a bowl of a stand up mixer fitted with the paddle attachment, beat butter and Biscoff spread together until fluffy about 2 minutes.
2.- Add powdered sugar and beat well until smooth.
3.- Add the cream until the frosting is smooth and fluffy.
4.- Frost cake. Sprinkle some cookie crumbs and decorate with chocolate covered espresso beans.