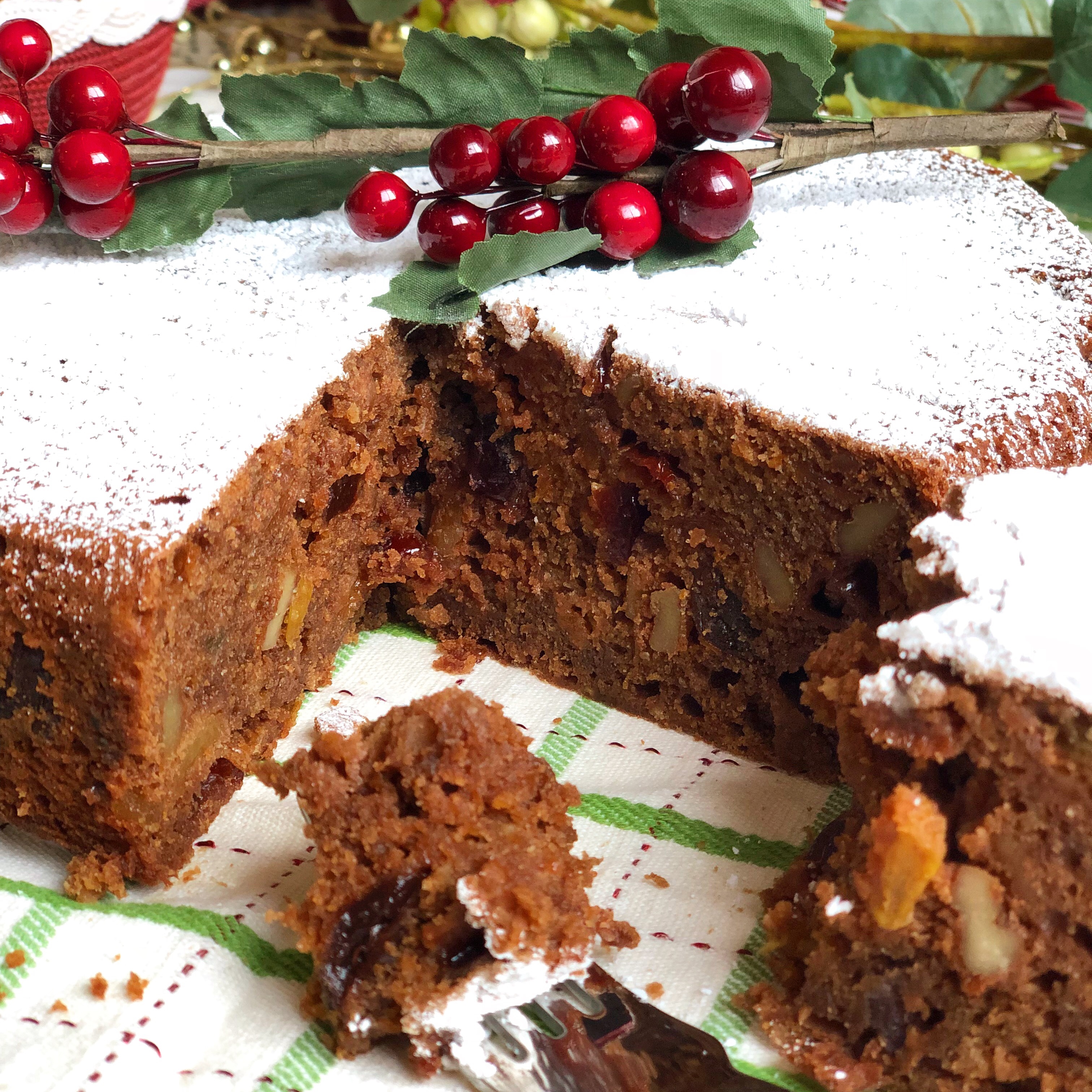 Friday is finally here and Thanksgiving is just around the corner, I can't believe November is going by so fast. Things around here haven't been that great, we have a big fire burning in Northern California for a week now, many people lost their life and homes, animals are lost and running away , the air quality is very unhealthy right. I just turned on my air purifier, otherwise it will be difficult to be inside the house with all the windows closed. Thanks to all the first responders for their hard and amazing work!
If you follow me on Instagram (@Pastry_Tales) you saw that I posted a picture of a Christmas cake , I know, I'm not a fruit cake person either, I really don't like those dense, wet, with tons of candied cherries cakes, and no, this cake is not like that at all. This is a lighter version of a fruit cake. It's packed with good quality nuts, dry fruit, rum, honey, cocoa powder and other goodies. This magical dessert is perfect for your Christmas table because it's easy to make and looks really pretty!
Oh, I almost forgot to mention. If you don't have all the dry fruit, don't worry, use the ones you have at home or the ones you like the most! There is not a specific rule for that! Also, you don't need a mixer!
Let's start with the recipe.
Ingredients
1 3/4 cups dry fruit ( I used cranberries, golden raisins, cherries, apricots and crystallized ginger chips)
5 oz dark rum (you can add more to your taste)
1 cup walnuts or pecans (you can use mixed nuts too)
2 oranges, zest and juice
7 tablespoons honey
13 tablespoons butter
7/8 cup dark brown sugar
1/2 tsp ground cinnamon
1/4 tsp ground ginger
1/4 tsp ground cloves
1/4 tsp ground nutmeg
4 tablespoons unsweetened cocoa powder
3 large eggs, room temperature
1 1/2 cups all-purpose flour
1/2 tsp baking powder
1/2 tsp baking soda
1/2 tsp salt
Instructions:
1.- Preheat oven to 350 F. Butter the sides and bottom of a 8 or 8 1/2 inch round pan (it's better to use a springform pan), line the bottom with parchment paper, you can line the sides too.
2.-  In a bowl, sift flour, baking powder, baking soda and salt. Set aside. This mix is going to be our dry ingredients.
3.-In a large pan on medium heat, add the dry fruit, rum, butter, honey, orange juice, orange zest, all the spices and cocoa powder.  Stir good and let it boil making sure the butter melts. Then, take it off the heat and let it cool for about 30-45 minutes.
4.- When the dry fruit mixture is cooled, add the eggs, dry ingredients and stir with a spatula, mix it all good making sure no flour lumps are left.
5.- Pour your batter on the cake pan. Bake it for about 1  hour and a half, BUT sometimes ovens are different, so I would recommend that after 1 hour you check the cake and see how is cooking. If the top is getting too dark and the inside needs more time to cook, grab a piece of foil paper and place it on the top and keep baking until is cooked. When the cake is done the top will look shiny and when you insert a toothpick moist crumbs should come out.
6.- Put the cake on a rack and let it cool for an hour or hour and a half, then take the cake out of the pan and let it cool completely.
7.- Sprinkle powdered sugar on the top!
This cake can last many days, just wrap it good!
Enjoy!!