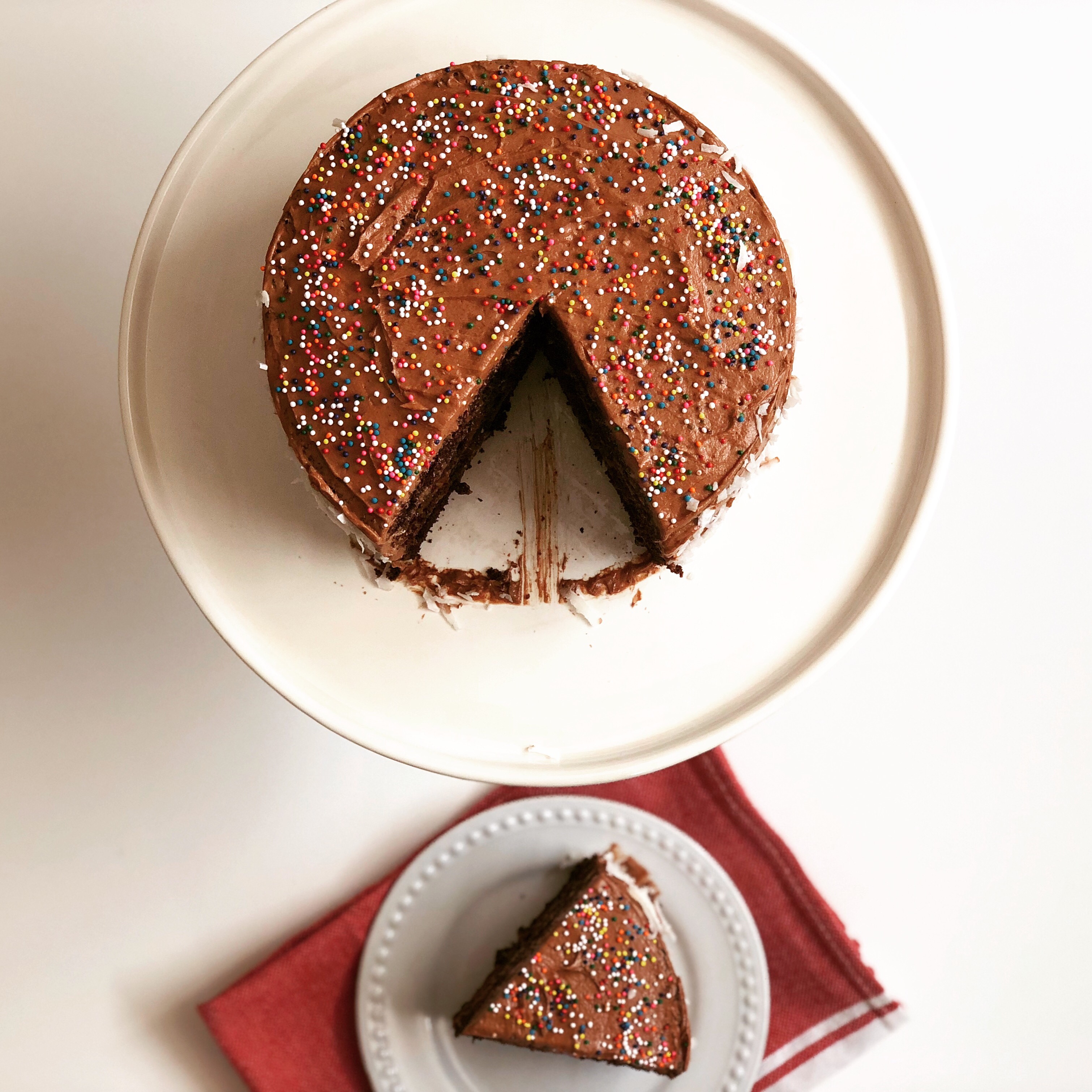 I've been thinking of using cacao powder to make a chocolate cake and finally I baked a small one, the result was just perfect. This 2 layers 6 inch cake is the perfect treat you want for a date night or just to enjoy with a nice glass of wine . This cake is moist and you can store it for a couple of days with no problem!
Let's start with the recipe.
Ingredients
For the Cake
1 cup all purpose flour
1 cup white granulated sugar
6 tablespoons of organic cacao powder. I used Navitas Organics.
1 teaspoon baking soda
1/2 teaspoon baking powder
1/2 teaspoon salt
1/2 cup almond milk
1/4 cup vegetable oil (you can use coconut oil too)
1 extra large egg
1/2 teaspoon pure vanilla extract
1/2 cup hot coffee
For the Buttercream (This will give you about 2 cups)
6 Tablespoons unsalted butter, room temperature
2 1/3 cups confectioners' sugar, sifted
6 tablespoons organic cacao powder, sifted
1/3 cup almond milk
2 teaspoons vanilla extract
pinch of salt
For the Filling
I used Dulce de Leche ( La Lechera by Nestle) or you can use some of the buttercream as a filling too.
Instructions
Preheat oven to 350 F.
Butter two 6 inch round cake pans. Line with parchment paper and then butter and flour the pans.
For the cake
1.- Sift flour, sugar, cacao powder, baking soda, baking powder and salt into the bowl of an electric mixer fitted with a paddle attachment and mix on low until combined.
2.- In another bowl, combine milk, oil, egg and vanilla.
3.- With the mixer on low, slowly add the wet ingredients to the dry. Then, add the coffee and stir just to combine. Remember to scrap the bottom of the bowl with a rubber spatula. Pour batter into prepared pans and bake for about 25-30 minutes or until a toothpick inserted to the middle of the cakes come out clean. Cool completely.
For the buttercream
1.- With a stand mixer fitted with a paddle, beat the butter on medium speed until creamy – about 3 minutes. Add confectioners' sugar, cacao powder, milk, salt, and vanilla extract. Beat on low speed for 30 seconds, then increase to high speed and beat for 2 full minutes. Add up to 1/2 cup more confectioners' sugar if frosting is too thin or another tablespoon of milk if frosting is too thick.
2.- Frost the cake and don't forget to spread some filling first! I used Dulce de Leche which is like a thick caramel OR you can use some of the buttercream too.
Decorate with sprinkles.
Enjoy!