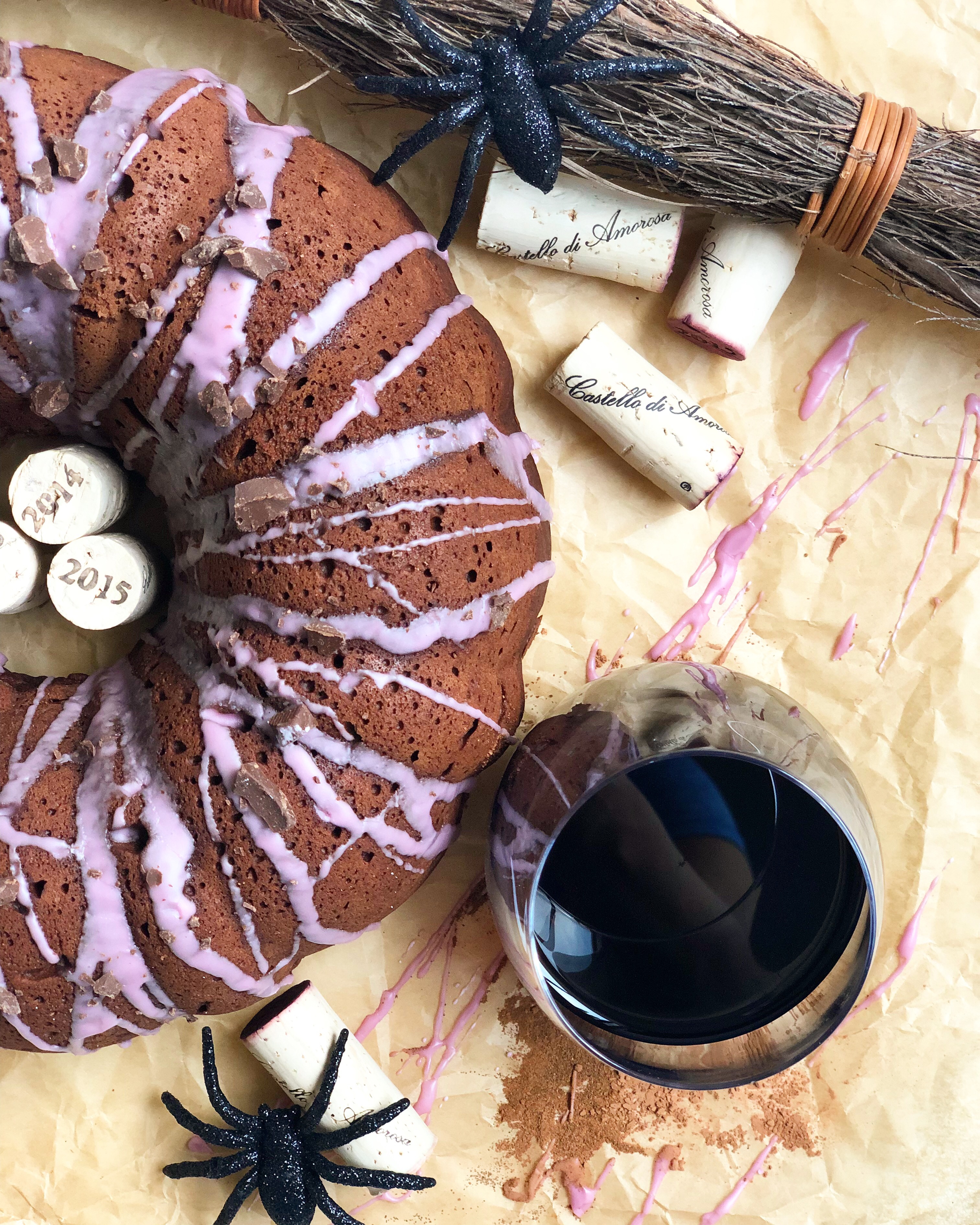 Happy October! Finally my favorite month is here! I love pumpkins, Halloween, apples, candy, Fall, spooky decorations, etc. I'm drinking pumpkin spice coffee right now (I bought it at Trader Joe's and it's very good). I felt that I was baking with pumpkin a lot so I decided to stop for a day and bake something that includes chocolate… so I came up with this idea of mixing chocolate and wine (what can go wrong with that, right?) but… I also wanted to incorporate something fresh (because I knew the cake was going to be rich)… and I decided to add pears. This cake is fabulous to make and share with your friends during Halloween time (or anytime…).
Let's talk about the wine I used to make this cake. This wine is from my favorite winery "Castello Di Amorosa", it's an old vine Zinfandel called Zingaro. If you live close to Napa Valley area and you haven't visited this winery yet, make plans and drive up there, it's beautiful and their wine is absolutely amazing.
Are you ready to bake? Let's start with the recipe.
Ingredients
For the bundt cake
1 1/2 cup unsalted butter, room temperature
1/4 cup light brown sugar
3/4 cup white granulated sugar
3 large eggs, room temperature
2 teaspoons vanlla extract
2 1/4 cups all purpose flour
3/4 cup unsweetened cocoa powder
2 teaspoons baking powder
1 teaspoon baking soda
1/2 teaspoon cinnamon
1/2 teaspoon salt
1/2 cup yogurt or sour cream
3/4 cup wine, I chose to use Zinfandel
1-2 cans pears, you should cut each half of pear in 2 slices. You should decide how much pears you add in your cake. I used 1 can and I think I could have used more.
For the glaze:
1 3/4 cups powdered sugar, sifted
red wine, I used Zinfandel
For decoration:
Chopped chocolate. I used Brix chocolate for wine.
Instructions
For the cake
1.- Preheat oven to 350 F. Grease Bundt pan and set aside.
2.- In a bowl, sift together flour, cocoa powder, baking powder, baking soda, cinnamon and salt. Set aside.
3.- In a bowl of a stand up mixer and with the paddle attachment, mix butter, white sugar and brown sugar, for about 4 minutes. Add eggs, one by one mixing well after each addition. Add in vanilla extract.
4.- Incorporate half of the dry ingredients into the wet ingredients, then add yogurt and wine, mixing it carefully. Then, add the rest of the dry ingredients.
5.-Pour half of the batter into prepared pan. Take the pears and put them on the top of the batter. Add the other half of the batter.
6.-Bake for about 45  minutes, or until a knife inserted in the middle of the cake comes out clean. Allow the cake to cool completely.
For the glaze
1.- In a small bowl, add some wine into the sifted powdered sugar and mix it until it becomes a thick glaze.
2.- Decorate the cake with glaze and sprinkle chopped chocolate before the glaze sets.
Enjoy and cheers!