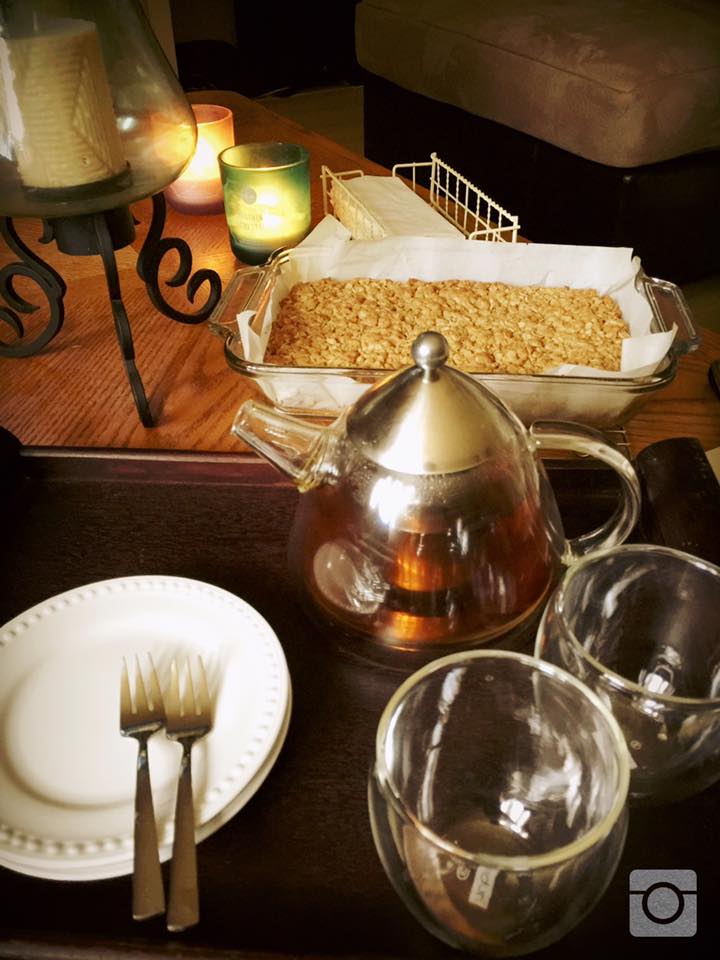 I am not a very big fan of baking with oats but when they can get crunchy like in this recipe, I'm all in! I was looking to make something that doesn't include chocolate, something more fruity, so I looked into my pantry to check what I had and found dry apricots and an organic apricot preserves jar from my last trip to Trader Joe's.
I love Trader Joe's. I go there every week to get all my goodies. I'll be making more posts about the products I get there.
This baked good has become my favorite when I have a friend over to talk and hangout. I can say these bars goes well with any kind of tea specially Earl Grey or English Breakfast.
Ingredients
Cooking Spray
Parchment Paper
Filling
1 jar apricot preserves (I used the one from Trader Joe's called Organic Reduced Sugar Apricot Preserves) . You will just use 13 ounces of the jar.
15 dry apricots chopped into little pieces
Crust
2 cups all purpose flour
1 packed cup light brown sugar
1 teaspoon of ground cinnamon
3/4 teaspoon  salt
3/4 teaspoon baking soda
2 cups old-fashioned oats
1 cup chopped pecans or walnuts
1 cup unsalted melted butter
1 large egg, room temperature
1 teaspoon vanilla extract (I use the one I get at Trader Joe's)
Directions
Preheat the oven to 350 degrees F. Spray a 9 by 13 metal or glass baking dish with the cooking spray. Line the bottom and sides of the pan with parchment paper. Spray just a little bit the parchment paper with the cooking spray and set aside.
To make the Filling: In a small bowl just mix together the jam and the apricots. Set aside.
To make the Crust: In a big bowl, mix together the flour, sugar, cinnamon, salt and baking soda. Stir in the oats and pecans. Add the melted butter (not too hot), egg and vanilla. Stir until everything is well mixed.
Using your clean fingers, lightly press half of the crust mixture onto the botton of the prepared pan. Using a spatula or a spoon, spread the filling over the crust BUT leave a 1/2 inch border around the edge of the pan. Cover the filling with the remaining crust mixture and press to flatten.  Bake until light brown about 45 minutes. Let it cool for an hour. Cut into small or big bars .
Enjoy! Please, share it with friends and family, they will love it! And why not? Make a cup of tea.