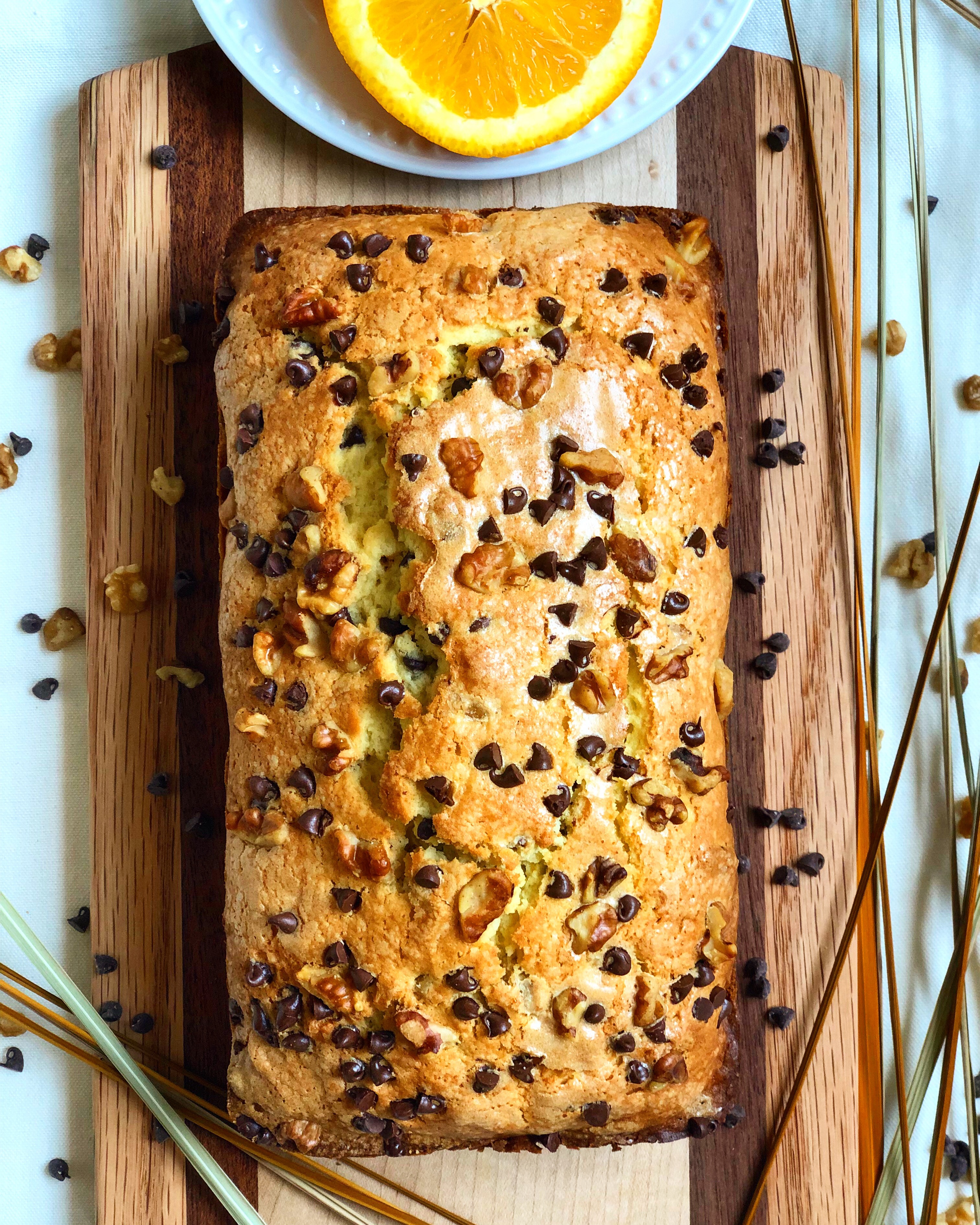 I wanted to have a break from pumpkin (for just one day) … so I thought why not baking with oranges?, they are still orange like pumpkins, right? Ok… that doesn't make much sense lol. Anyway, This bread is very aromatic, it has fresh orange juice and zest, it will make your house smell like a bakery! I added mini chocolate chips and walnuts (you can use pecans too). This bread is perfect for breakfast or an afternoon snack. It goes perfect with a cup of coffee or tea.
Sorry I cheated on you, pumpkin. Oranges deserve a recipe too. Here it is.
Ingredients
1/2 cup butter, room temperature
1 cup white granulated sugar
2 large eggs, room temperature
1/2 cup plus 2 tablespoons fresh orange juice
orange zest, from 2 oranges
2 cups all purpose flour
2 teaspoons baking powder
1/2 teaspoon salt
1/2 cup mini chocolate chips
1/2 cup chopped walnuts
2 teaspoons sugar to sprinkle on the top
Directions
1.-Pre-heat oven 350 F. Grease a loaf pan.
2.- Beat butter for 2 minutes until fluffly. Add sugar and beat for 1 more minute.
3.- Add eggs, one by one, mixing well after each addition.
4.- Mix in juice and zest. Mix. By this step, the batter will look curdle, but don't worry, it will all come together.
5.- Mix all dry ingredients and sift them together. Add dry ingredients to the orange mixture until just mixed.
6.- Add chocolate chips and walnuts and mix slightly.
7.- Sprinkle sugar (2 teaspoons) on the top of the batter.
8.- Bake bread for 60 minutes. Always check the top of the bread isn't turning too dark. If this happens, grab a piece of foil paper and cover it and finish baking.
9.- Let stand for 30 minutes and enjoy!