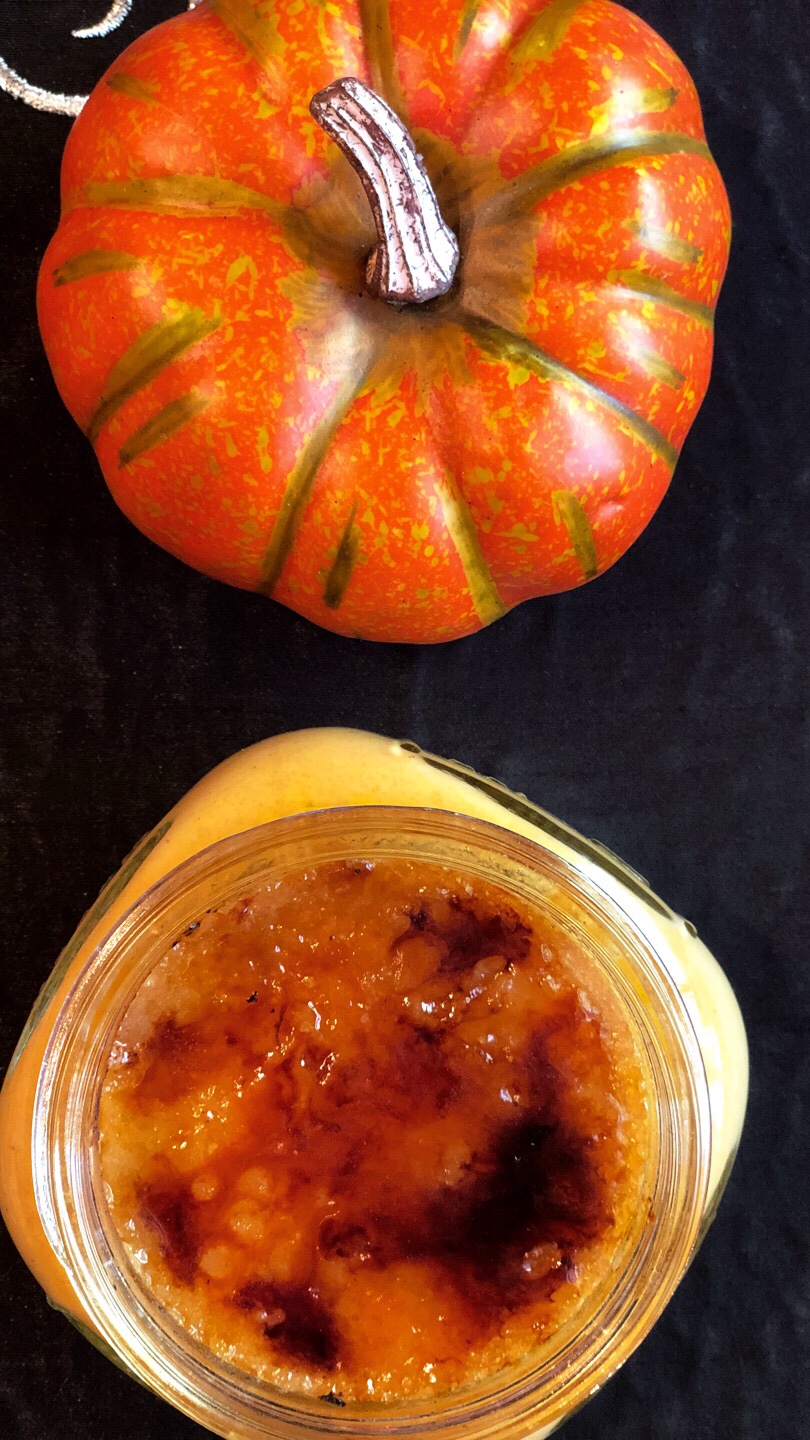 Happy Wednesday everybody! Here is the recipe for a classic dessert turned into pumpkin: Pumpkin Creme Brulee.
Don't forget to follow me on Instagram:  https://www.instagram.com/pastry_tales/
Ingredients
Yield 4 (8 ounces) mason jars.
For the custard:
8 egg yolks
2 cups heavy cream
6 tablespoons dark brown sugar
a pinch of salt
2 teaspoons vanilla extract (try to use a good brand, I like the one from Trader Joe's)
1 teaspoon ground cinnamon
1/2 teaspoon ground ginger
1/2 teaspoon ground allspice
2/3 cup pure pumpkin puree
For the caramel:
a kitchen torch
extra granulated sugar
Instructions
Preheat the oven to 300 degrees F.
1.-Place the egg yolks in a medium mixing bowl and set aside.
2.-Place the cream in a small pot, along with the brown sugar and salt. Bring to a simmer. Turn off the heat. Stir in the vanilla extract and spices.
3.-Slowly and gradually add a little of the warm cream into the egg yolks, whisking. When all the cream has been added, and the yolks are warmed, whisk in the pumpkin.
4.- Get rid of any foam or bubbles that forms on the top of the mixture. Use a big spoon.
5.-Divide equally between (4) 8 -ounce mason jars or ramekins.
6.-Line a larger baking dish with a towel and place the mason jars inside. Carefully pour very hot water around the ramekins, about ⅔ of the way up the sides. Bake for about 50 minutes, or until the edges are set but the centers are still jiggly.
7.-Remove from the water bath and let it cool at room temperature.
8.-Refrigerate for  at least 3 hours or overnight.
9.- Prior to serving, remove from refrigerator and sprinkle about 2 teaspoons of sugar over each custard top. Using a small, hand-held torch melt the sugar until a burnt caramel is made.