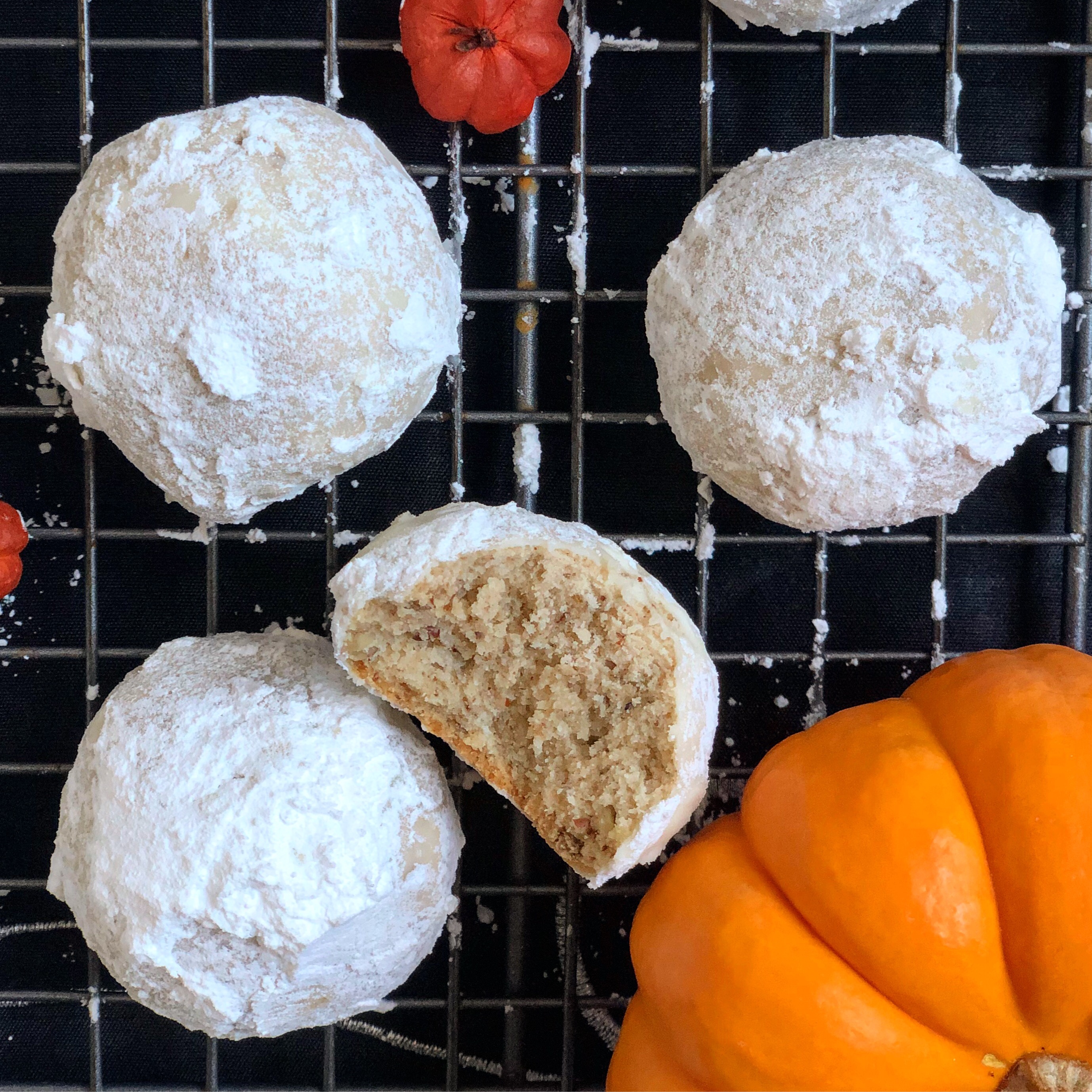 Have you ever heard about snowball cookies or Russian tea cakes or polvorones or wedding cookies? They are all the same, they are usually made with butter, powdered sugar and nuts (I prefer to use toasted pecans). They're very popular during Christmas time in the United States or Europe. You might think they are hard to make but really they are not. Because it's pumpkin time, I decided to give a new twist in this classic recipe. I added pumpkin extract, pumpkin pie spice and espresso powder so I can have a "Pumpkin Spice Latte Snowball Cookie".
I found that Watkins brand has a version of  pumpkin spice extract, the result was very good.
Hope you all are doing great! Let's start with the recipe!
Ingredients
1 cup unsalted butter, at room temperature
1/2 cup powdered sugar
2 1/4 cups all-purpose flour
1 tsp vanilla extract
1  1/2 tsp pumpkin spice extract
1/2 tsp pumpkin pie spice
1 1/4 tsp espresso powder
3/4 cups toasted pecans, finely chopped
1/4 tsp salt
Extra powdered sugar for rolling
Directions
1.- Pre-heat oven to 375 F. Line a baking sheet with parchment paper.
2.-Using  a stand mixer with a paddle attachment, whip butter for about 2 minutes until fluffy. Add powdered sugar , vanilla extract, pumpkin extract, pumpkin pie spice and espresso  mix for about 2 more minutes.  Stir in flour and salt. Add nuts and mix.
3.-  Divide dough in half; form each half into ball. Wrap separately in plastic; chill until cold, about 45 minutes.
4.- Working with half of chilled dough, roll dough by 2 teaspoonfuls between palms into balls. Arrange balls on prepared baking sheet, spacing 1/2 inch apart. Bake cookies until golden brown on bottom and just pale golden on top, about 15-18 minutes. Cool cookies 5 minutes on baking sheet. Gently toss warm cookies in powdered sugar to coat completely. Transfer coated cookies to rack and cool completely. Repeat procedure with remaining half of dough.
5.- When you are about to serve the cookies, sprinkle some extra powdered sugar on the top.
Enjoy!